The Frilled Giant Pacific Octopus, A New Octopus From Prince William Sound
Nate Hollenbeck and Prof. David Scheel, both at Alaska Pacific University, have described the body patterns a new type of octopus (below left) in Prince William Sound, Alaska. The researchers are calling the new octopus the frilled giant Pacific octopus. The new type is distinguished both morphologically (Hollenbeck & Scheel 2017) and genetically (Hollenbeck et al. 2017) from the common and well known giant Pacific octopus (Enteroctopus dofleini, below right). This page provides photographic descriptions of traits that distinguish the two octopus types. The material presented here is drawn from
Hollenbeck, N. and D. Scheel. 2017. Body patterns of the frilled giant Pacific octopus, a new species of octopus from Prince William Sound, AK. American Malacological Bulletin 35(2): 134-144. (Abstract) | (Request pdf) |
Hollenbeck, N., D. Scheel, M. Fowler, G. K. Sage, R. K. Toussaint and C. Talbot. 2017. Use of swabs for sampling epithelial cells for molecular genetics analyses in Enteroctopus. American Malacological Bulletin 35(2): 145-157. (Abstract) | (Request pdf) |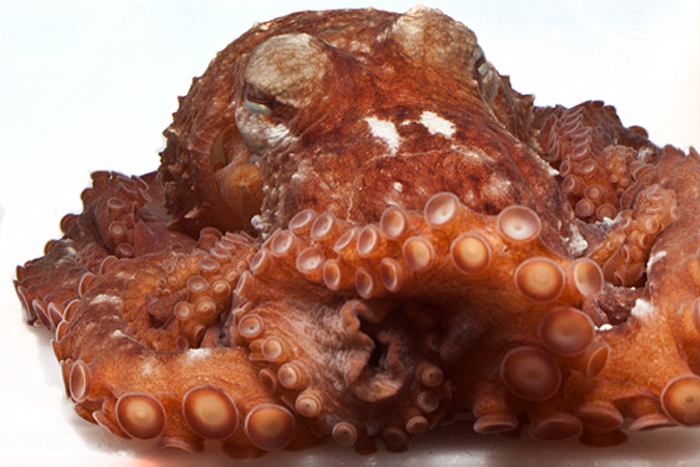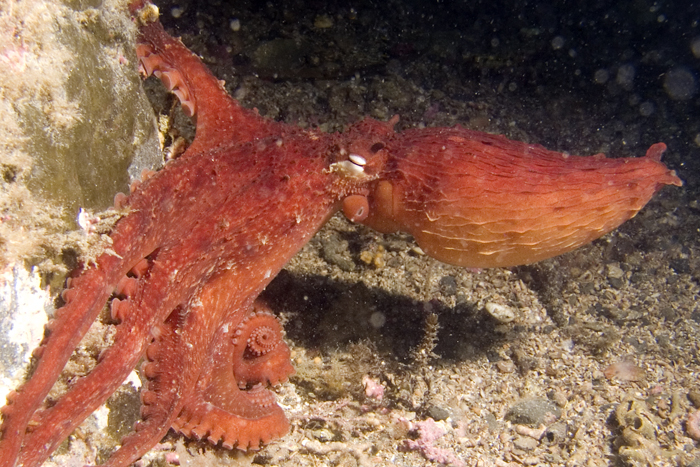 Distinguishing two types of giant Pacific octopus
Our Study: We collected live octopuses as by-catch in shrimp pots fished during the Alaska Department of Fish & Game annual spot shrimp survey (Fall 2012 & 2013) and from a commercial vessel (Spring 2013) in western Prince William Sound, Alaska. One-third of the 21 octopuses caught as by-catch were of a previously undescribed type (below, novel morphotype). The other two-thirds of octopus by-catch were giant Pacific octopuses, Enteroctopus dofleini.

Novel Morphotype – the new octopus: Novel morphotype octopuses (see image, below left) were identified by an absence of longitudinal mantle folds, the presence of a lateral mantle frill comprised of a semi-continuous line of broad merged papillae forming a frill or flap along the mid-lateral mantle, the absence of papillae or rugose texture on the ventral mantle below the frill, and two distinctly separated frontal white spots (rather than a single simple or compound spot, or none). See images below left and frontal white spots below to the right, bottom image of three.
The maximum size of the novel octopus type within our sample of N=6 individuals was a 2.15 kg female.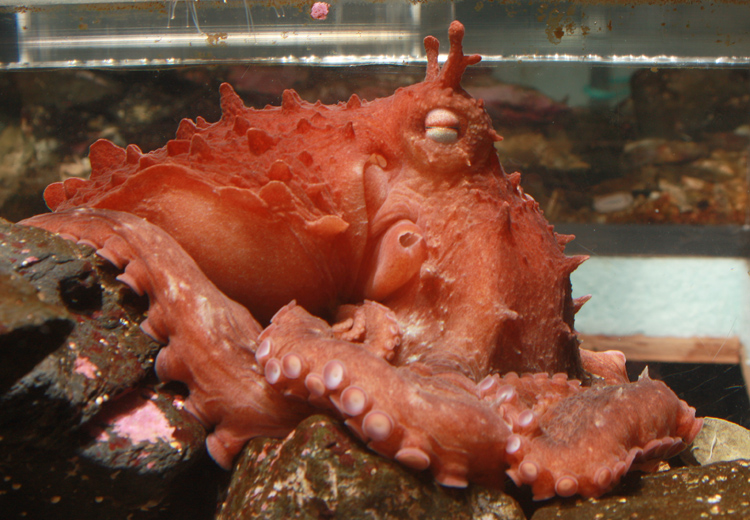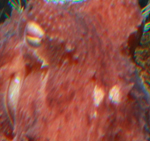 All novel morphotype octopuses had long and thin (elongated flat and oar-like) major papillae over the eye (below, left). This trait also occurred, albeit rarely, in E. dofleini. All novel morphotype octopuses also had one or more of three eye papillae traits, although no single trait was present in all novel morphotype individuals:

three minor papillae under the eye (eye lashes);

branched major papillae over the eye; or

compound major papillae over the eye (with a secondary papillae at its base).

No E. dofleini (below, right) displayed any of these three traits.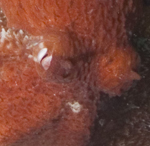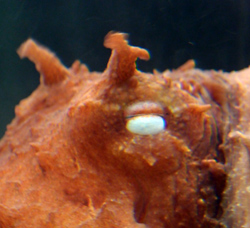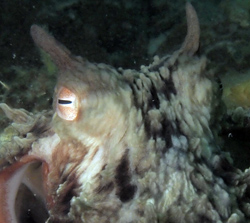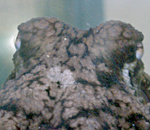 Enteroctopus dofleini – the familiar giant Pacific octopus: E. dofleini (see image, below) were distinguished by the presence of longitudinal mantle folds on dorsal, lateral and ventral mantle, by texture on the ventral mantle and the absence of a lateral mantle frill, and a single (simple or compound) frontal white spot (rather than two or none). See previous image of frontal spots to the right above, middle (compound) or top (simple) panels. E. dofleini were also characterized by patch-and-groove reticulation, visible in the frontal white spot image (above right triptych of small images, middle compound frontal spots) as a network of reticulated dark lines.

E. dofleini major eye papillae (above, right) were typically fat at the base and tapering to a rounded point, and were neither branched nor compound. E. dofleini did not display three distinct minor papillae under the eye.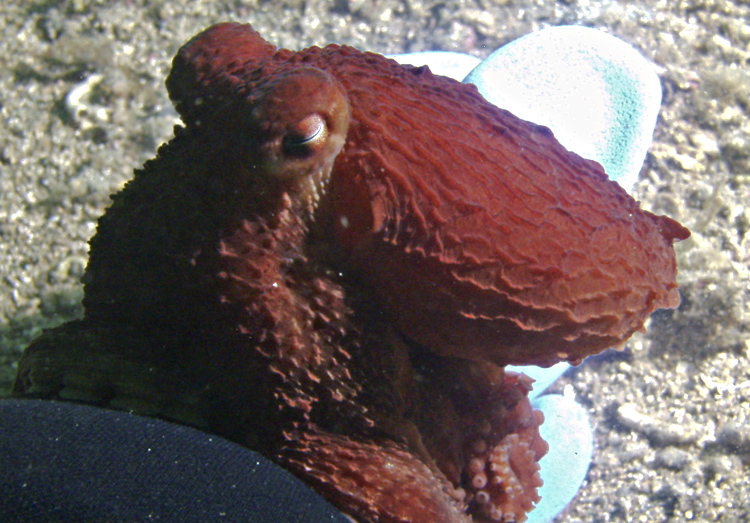 Range
A preliminary estimate of the range of novel morphotype based on photographs and genetic data is from Juneau Alaska to the Bering sea.
The range of E. dofleini extends along the Pacific rim from California to Japan.
Genetics
All novel morphotype octopuses in our sample were genetically identified as cryptic (Clade II), a genetic sister clade to Enteroctopus dofleini (Hollenbeck et al. 2017, Toussaint et al. 2012), distinguished by mitochondrial genes, nuclear genes, and microsatellite loci.
5 Dec 2017 © D. Scheel
All rights reserved